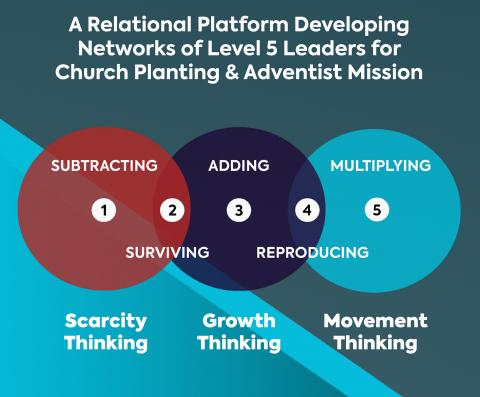 Why Level 5 Leaders?
    The Great Commission demands leaders who think & function with movement dynamics
    Investing in a few who invest in others is Jesus' way. His time with the 12 vs. the masses was 3-1
    North America as a mission field calls for leaders who coach & develop members into a missional culture of evangelism & church planting
What are the characteristics of Level 5 Leaders?
    Equippers rather than performers of ministry
    From starting new ministries & churches (L4), to starting multiplying ministries & churches (L5)
    Spiritually & emotionally mature to send the best
    Legacy is who they empower not what they do
---
ACTS
Assess
Covers spirituality & character, equipping paradigm, & personal style. This process brings leadership self-awareness, & can be replicated in team-building for church planting or other multiplying ministries.
Coach
Practice & integrate basic coaching skills that transform who you are, how you engage, & what you do. Outside of the modules, participants also give & receive regular coaching.
Train
Develop & implement a strategic plan that integrates evangelism, disciple-making, and church multiplication.
Support
Fostering peer collaboration and high-lighting available resources through the local conference, union, division or other entities.
---
Four 2 1/2-day Modules
Within a relational environment of like-minded colleagues, these modules deliver a sequential and highly practical experience for participants. ACTS—the components of a multiplying network—are built into each individual module to be contextualized into the evangelistic and church planting focus of participants.
The assessment, coaching, and training experiences culminate with developing and implementing strategic plans to plant multiplying churches or ministries. In combination with what happens outside of the modules—the participants both receive regular coaching and coach their local leaders—a mission-shaped culture is being developed.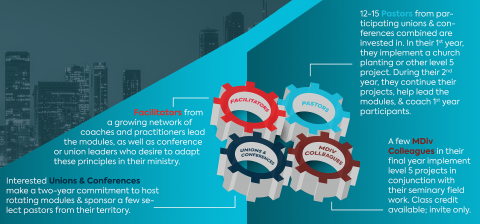 FAQ
What are some specific examples of projects that can serve a Conference & Union?
Evangelism & Church Planting Directors implementing a support system unique to their needs. District Pastors equipping & sending members to plant new churches. Preachers multiplying their preaching through training & releasing teams. Youth & Young Adult Leaders utilizing coaching to multiply their impact.
What is the cost?
We provide the facilitators, coaching outside of the modules, and any needed materials. The local conference or union selects a host site, and provides travel costs for participating pastors or conference leaders.
I'm interested. How do I get involved?
Have a leader from your conference or union contact us for more details regarding dates, locations, and logistics.